Assassin's Creed Origins sau bao ngày chờ đợi tựa game siêu khủng này cũng đã được ra mắt với đồ họa cực kỳ đã và đương nhiên tựa game này cũng sẽ yêu cầu một hệ thống không hề nhẹ nhàng chút nào.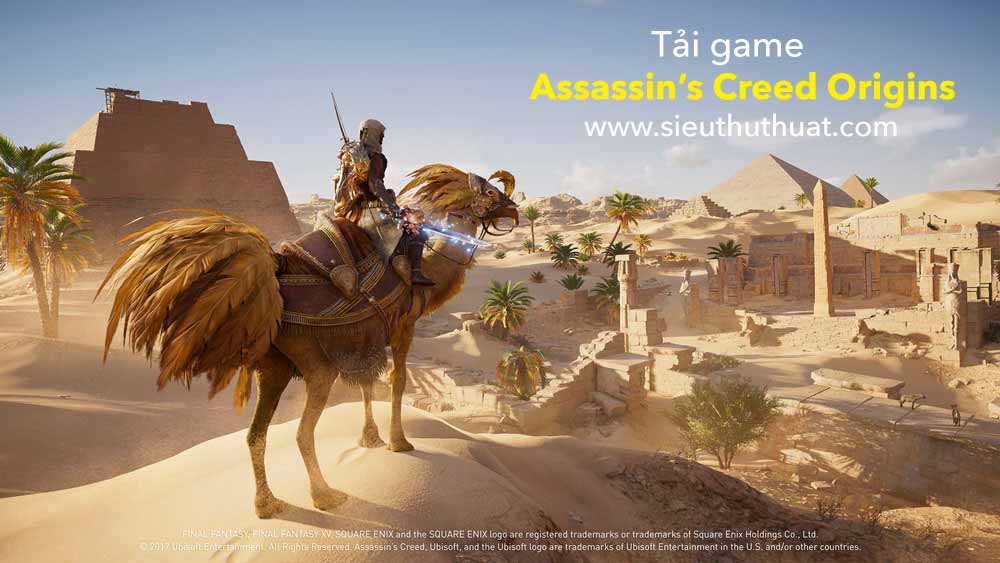 Cốt truyện
Assassin's Creed Origins khác hẳn với các phiên bản trước tựa game này lấy bối cảnh tại Ai Cập, người chơi sẽ vào vai nhân vật chính có tên Bayek tham gia vào một cuộc hành trình đầy thử thách để chống lại Templar: The Order of the Ancients.
Assassin's Creed Origins sẽ có sự xuất hiện của nhiều nhân vật lịch sử nổi tiếng như: Cleopatra, Julius Caesar và Ptolemy. Theo nhiều phỏng đoán của người hâm mộ (dựa vào các dữ kiện được hé lộ trong các đoạn trailer), Cleopatra và hội Hiệp sĩ dòng Đến (Templars) có một quan hệ mật thiết với nhau. Cuối cùng, Cleopatra sẽ bị sát hại bởi một Assassin Ai Cập có tên Amunet.
Nếu như bạn đã xem trailer của game ở trên thì chắc chắn bạn sẽ thấy đồ họa cực kỳ đã mắt và hoành tráng tuy nhiên để chơi được game này bạn cần phải có máy tính có cấu hình khủng mới có thể chơi nó mượt mà, không bị giật lag.
Tải game Assassin's Creed Origins
Yêu cầu hệ thống:
Hệ thống tối thiểu:
OS: Windows 7 SP1, Windows 8.1, Windows 10 (64-bit versions only)
Processor: Intel Core i5-2400s @ 2.5 GHz or AMD FX-6350 @ 3.9 GHz or equivalent
Memory: 6 GB RAM
Graphics: NVIDIA GeForce GTX 660 or AMD R9 270 (2048 MB VRAM with Shader Model 5.0 or better)
DirectX: Version 11
Additional Notes: Video Preset: Lowest (720p)
Đề nghị:
OS: Windows 7 SP1, Windows 8.1, Windows 10 (64-bit versions only)
Processor: Intel Core i7- 3770 @ 3.5 GHz or AMD FX-8350 @ 4.0 GHz
Memory: 8 GB RAM
Graphics: NVIDIA GeForce GTX 760 or AMD R9 280X (3GB VRAM with Shader Model 5.0 or better)
Additional Notes: Video Preset: High (1080p)